How to Bet Online in Arizona Using Your Smartphone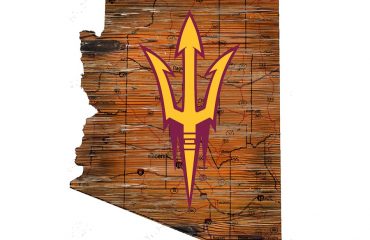 Betting apps in Arizona are catching fire, especially after the passing of legal sports betting in the state in late 2021. The market for sports betting across the country recently opened up even more after the US Supreme Court overturned PASPA (Professional and Amateur Sports Protection Act) in 2018.
Since then, we have seen the birth of some of the biggest sportsbooks across the United States. This has been ESPECIALLY TRUE in the state of Arizona, where the Valley lays claim to the best sportsbooks and partnerships across the country – and also its one of the most consistent earners in terms of monthly betting handle, which routinely exceeds the tens of millions of dollars.
The recent developments in legal betting and betting technology have made access to sports betting options in the palms of hands in a large number of states. In Arizona, legal sportsbooks and their apps launched September 9th, 2021. This made mobile betting a reality across the state.
How to Download These Smartphone Apps in Arizona
The process for downloading sports betting apps in Arizona are the same as downloading any other app to your mobile phone. The step by step process might vary slightly depending on your mobile device and operating system. Regardless of what type of phone you carry in your pocket, here's a summary of how to download an app:
Go to the mobile app store.
For iOS (iPhone) users, this is called the App Store.
For Android users, this is the Google Play Store. (Google Pixel, HTC, LG, Motorola, Samsung, and Sony are all Android devices).
Search for your favorite sports betting apps in Arizona.
Tap to download and install to your phone (authorization might be needed to start downloading).
Open the app and place your first bets.
With some sportsbook apps (this applies primarily to Android devices), it might be necessary to visit the sportsbook's website and download the application from there. In these cases, configure your smartphone or tablet to allow installation from third-party providers.
You'll also need to register an account at the sports betting site and sign in before you can place a bet via the app. Once you've done that once, your login details should be stored by your phone. Any time you open the app, the mobile device will already be linked to your account.
The Top 5 Apps in Arizona
Now that you know sports betting is legal in Arizona, here's the real trick:
How do you choose the right betting app if you're gambling in Arizona.
That becomes easier when you have a guide in us that offer the best betting reviews in Arizona.
They were ranked by how easy the apps were to use and what kind of first time deposit bonuses the sites offer.
We recommend trying multiple betting apps until you find one that best suits your needs.
1 – Caesars
The Caesars Sportsbook app offers a great user experience with a Roman-themed interface. The app boasts the latest technology, the biggest welcome bonuses, and state of the art VIP programs. Caesars probably has the biggest user base in Arizona, too, with the possible exceptions of DraftKings and FanDuel.
2 – BetMGM
The BetMGM app offers free live streaming of major games and high-value bonuses and promotions. BetMGM has a lots of betting options, and the mobile platform is user-friendly. Also, BetMGM's customer service is second to none.
3 – DraftKings
The DraftKings app uses an online wallet for transactions. DraftKings is one of the top sportsbooks in the market, and their app is easier to use on small screens than most others available in Arizona. DraftKings is easily the biggest book in the market in the state, and the care they've put into designing a user-friendly app is obvious.
4 – FanDuel
The FanDuel app gives you access to their great customer response team, loyalty rewards, and betting on almost every sport you can imagine. FanDuel is probably tied with DraftKings for the title of sports betting industry-leader.
5 – BetRivers
The BetRivers app was developed specifically for legal sports betting states like Arizona. It provide essential stats you need before placing bets. The BetRivers app focuses on offering some of the best loyalty rewards in the business.
How to Bet Sports in Arizona
Before you can place a bet on a sports betting app in Arizona, you must open an account there and deposit funds. All Arizona sportsbooks offer multiple means of depositing and withdrawing money, some of the most popular being:
Credit or debit card
Prepaid card specific to the site
PayPal
ACH (eCheck)
Online bank transfers
Wire transfers
PayNearMe
Checks
Most Arizona sportsbooks offer generous promotions and signup bonuses when you first open an account. These promotions can be in the form of risk-free bets or bonuses that are a percentage of your initial deposit.
Take advantage of all promotional offers available to you during your sports betting experience. You deserve any free money a sportsbook is willing to offer you.
Get familiar with the betting rules. Don't assume you're familiar with the rules before placing a bet. It's always better to double-check the guidelines before placing a wager.
Once you have scanned through all the lines and found one you like, place your bet. Click on the line you want, and the app takes you to a screen asking whether you would like to place the wager as a straight bet or as part of a teaser or parlay. If you only want to put this bet, choose "straight wager" and enter the amount you want to risk.
After entering the amount, the app notifies you of the payout for winning bets. Once you're satisfied, click to confirm the bet.
Then sit back and watch the game. It's more fun when you're using one of the new sports betting apps in Arizona, for sure.