MLB Betting in Arizona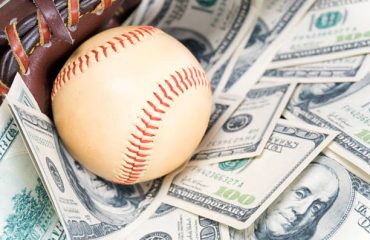 Major League Baseball, or MLB, is one of the FOUR major sports leagues in the United States. MLB isn't the most popular US sport for bettors, but there's plenty of lines being offered at all of the major sportsbooks here in Arizona.
Like every sport you bet on, you need a good strategy to win when you bet on baseball. The analysts here break down the things you need to use to develop your own baseball betting strategy.
The common bet options for MLB are run lines, moneylines, and totals. Totals and moneylines in MLB work the same as they do in other sports. But the run line isn't found in popular sports like football and baseball.
Baseball Run Lines
If you usually bet on football or basketball, baseball run lines might look a little unusual. They work like any other standard betting line in other sports, with one common denominator: teams normally only have TWO runs on EITHER side to work with (favorite and underdogs). Once you learn how to use run lines, it's easy to make bets.
Here are two examples of baseball run lines:
Atlanta Braves (+ 1.5 ; – 190)

New York Mets (– 1.5 ; + 160)
In the above example, the Braves are playing at the Mets. To bet on the Braves, you risk $190 to win $100. But you only get 1.5 runs to work with. So, if the Braves win the game – or lose by ONLY one run – you WIN the bet.
To bet on the Mets, you risk $100 to win $160. But since the sportsbook itself is giving 1.5 runs, this bet can only be won if the Mets WIN by two or more runs.
Editors Tip: Keep in mind that when you see lines hitting -180 and up, it's usually because that team is a heavy favorite and has a combination of great starting pitching or solid hitters at the plate.
New York Yankees (– 1.5 ; + 125)

Toronto Blue Jays (+ 1.5 ; – 145)
In the above example, the Yankees are playing at the Blue Jays. To bet on the Yankees, you bet $100 to win $125. But you give 1.5 runs, so the Yankees have to win by at least two runs to win the wager. Is you see a line as tight as this, it usually means there's good starting pitchers on both sides and the sharps are expecting a closely contested game.
Now on the other hand, if you choose to bet on the Blue Jays, you risk $145 to win $100. But you get 1.5 runs; meaning the Blue Jays only need to win or lose by ONE RUN to win this bet.
As you handicap baseball games, keep the run lines in mind. In a game you handicap to be close, the team getting 1.5 runs often offers value.
Baseball Moneyline (Straight Up Winner)
Moneylines work in baseball the same as other sports. You're betting on the team you think will win the game.
Here are the moneylines for the same two games used in the last section:
Atlanta Braves (+ 115)

New York Mets (– 135)
The Mets are favored, costing $135 to win $100. A bet on the Braves costs $100 to win $115.
New York Yankees (– 140)

Toronto Blue Jays (+ 120)
The Yankees are favored, costing $140 to win $100. A bet on the Blue Jays costs $100 to win $120.
Baseball Totals (Runs Scored)
Totals in baseball are the same as totals in other sports. You bet on whether the total number of runs scored by both teams is going to be over or under the total.
Here are the totals for the same two games used in earlier examples:
The total on the Braves Mets game is 7. Over 7 is listed at – 105, and under 7 is listed at – 115.
The total on the Yankees Blue Jays game is 8.5. Over 8.5 is listed at + 100, and under 8.5 is listed at – 120.
Notice what the totals mean for each game. The sportsbook believes the Yankees Blue Jays game is going to be higher scoring than the Braves Mets game. And if you're handicapping games you know why.
Where to Find Baseball Betting Lines
You can find baseball betting lines at any online sportsbook. You can find the list of trusted sportsbooks we recommend here.
Sign up for as many of these sportsbooks as you can. Having multiple sportsbooks gives you the ability to shop for baseball lines quickly – not to mention you can take away of numerous sign up bonuses!
Those aforementioned free bets and bonuses help you save money while you learn baseball betting strategy.
Handicapping Pitching
Winning baseball betting strategy requires handicapping multiple parts of each game. The two most important baseball areas you must handicap are pitching and hitting.
Handicapping pitching has changed some over the years. Starting pitchers used to work deeper into games than they do now. The starting pitchers were more important than the bullpens in the past. But now, the bullpens are just as important as the starters.
You can use many different things when handicapping pitchers. And like every form of handicapping, the key is finding the things that work and the ones that don't work. Here are ways to handicap pitching in baseball.
Watching pitchers in games
WHIP walks plus hits divided by inning pitched
ERA earned run average
Velocity
Spin rate
You also need to consider home and road splits and left and right splits when evaluating pitchers.
An insider strategy is tracking how pitchers perform based on usage. For example, if a closer has pitched the last two days, does he perform as well on the third day? Does a starting pitcher do as well the second or third time through the opposing lineup?
Handicapping Hitting
Does dominant pitching overcome dominant hitting, or is it the other way around? The answer doesn't really matter because you have to handicap both sides of baseball games. And both sides are equally important.
Hitting a baseball is one of the hardest things to do in professional sports. Hitters are trying to hit a round ball with a round bat. And the ball is spinning and traveling close to 100 mph. And a few pitchers are throwing over 100 mph.
All of these things make handicapping hitting challenging. The only thing you can do is use the information you have to try predicting the future. Here are some things to use when handicapping hitters.
Batting average
On base percentage
Slugging percentage
Exit velocity
WAR wins above replacement
Like pitchers, you also need to consider the home and road splits for pitchers and the left and right splits.
Historical data is also valuable in your baseball strategy. It's valuable to know which hitters start slow and which hitters wear down as the season progresses.
Manager and Player Tendencies
Many baseball bettors ignore managers. But managers influence every game. When the manager pulls his starting pitcher, how he fills out his lineup card, and how he manages decisions in each game must be tracked.
The first thing to learn about each manager is how he handles his pitching staff. You need to know everything a manager is likely to do with his pitchers before he does it.
You also need to know which managers are most likely to try to steal bases, shift their defense and/or alter their lineup based on the opposing pitcher.
Players also have tendencies based on a wide variety of things. You can get an idea about common tendencies by looking at their splits for right and left and home and away.
But players have other tendencies. Some players are pretty consistent throughout each season. While others have hot and cold stretches. When some players get hot, they tend to carry a team for a short time.
And when some players get cold, they can't buy a hit. Even when they hit the ball hard, it finds a defender right where they hit it.
Does Defense Matter?
Ignoring defense in your baseball betting strategy might be the worst mistake you can make. Yet most baseball bettors never think about defense.
Defense goes hand-in-hand with evaluating pitching. A great defense can save pitchers outs and runs. And a poor defense can cost pitchers outs and runs.
Every defensive position is important, but some are more important than others. Strong defensive teams tend to have good players at catcher, shortstop, and centerfield.
You can learn a lot by using statistics to handicap baseball games. But you need to watch players and games to get a complete picture of the defensive abilities of teams.
A shortstop that gets to more balls is almost always more valuable than one who doesn't get to as many balls, even if he makes more errors.
Don't Forget the Home Park
Using home and road splits for players and teams is important. But you also need to track every ballpark. Some parks favor hitters and others favor pitchers.
Home parks are important for totals, but also when you're handicapping pitchers and hitters.
Here's a simple example:
A team with a lot of power hitters and weak pitching staff is playing in a park that has a big outfield and is a pitchers park. The team they're playing has a strong pitching staff and a high on base percentage lineup. But the team doesn't hit for a lot of power.
While the team with more power might be favored in a game in a smaller park or hitter friendly park, the team with better pitching is usually favored in a pitcher's park.
Is Quantity or Quality in Baseball Betting More Important?
Making a profit betting on baseball games is challenging. Every game is unpredictable, even if some things are predictable over a full season.
You have to bet on a lot of games overall to make much money, but you also have to find games and lines offering value. You're always better off betting on one or two games offering value than trying to force value on more games.
Focus on using baseball handicapping to find value first. Many games don't have value, so don't bet on them. Only bet when you find good value if you want to make money overall.