ONLINE BANK TRANSFER, E-CHECK, CREDIT/DEBIT CARD
ONLINE BANK TRANSFER, WIRE TRANSFER, CASH
OFFICIALLY LICENSED IN ARIZONA
OFFICIAL OPERATOR SINCE 2021 
Caesars Sportsbook is a product of Caesars Entertainment, one of the biggest names in the US gaming industry. William Hill provides the online sportsbook with odds and technology, which will play a much more significant role in the future.
Caesars has acquired William Hill, and all of these sportsbooks will be rebranded under the Caesars Sportsbook name moving forward. In Arizona, that means that it will be Caesars Sportsbook that launches, but William Hill will still help get the sportsbook up and running.
The Caesars Sportsbook is not a new platform, but it was traditionally only available in Las Vegas, Nevada. However, once the United States started to see rapid growth in the sports betting industry, Caesars was quick to expand.
At this time, Caesars is only available in Nevada, New Jersey, and Pennsylvania, which are three of the biggest sports betting markets in the US. However, that is going to be changing soon, and Arizona will be one of the next states to see this popular sportsbook.
Caesars Entertainment is known for its terrific customer service and also for providing sports bettors with a unique and rewarding experience. There are many other great features of the Caesars Sportsbook, and many of those will be touched on in this review. 
Sign Up Bonus at Caesars Sportsbook
When online sports betting officially launches in Arizona, there will be a number of sites fighting for customers. This is going to create a highly competitive market, and that is a great thing for customers.
Online sites will attempt to stand out from the crowd by offering a bonus or welcome offer to new customers. Caesars Sportsbook is expected to do this very thing, although the exact offer won't be known until the site goes live.
Since Caesars Sportsbook is alive already in other states, it is assumed that the welcome offer will be similar. This would be great news for sports bettors in Arizona because it is a fantastic welcome offer.
There is a two-part offer from Caesars Sportsbook in other markets, and it adds up to $310 in total bonus money. It doesn't appear that a promo code will be needed either, as this welcome bonus will be available for all new accounts.
Caesars Sportsbook offers a free $10 no deposit bonus to everyone that creates an account. Simply complete the registration steps, and that money will be loaded into your account.
Caesars also offers a 100% first deposit bonus of up to $300 for new customers. This means that a $300 deposit can place $610 in your account before you even visit the sportsbook and start making bets.
This welcome offer will be very competitive with other sites expected to launch in Arizona, and there are very few hoops to jump through to get it.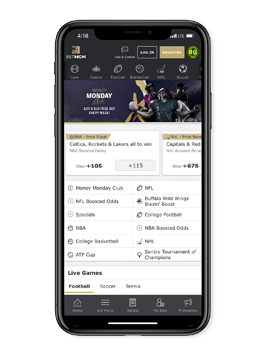 Caesars Sportsbook Features
Caesars Sportsbook provides customers with a unique and terrific sports betting experience, but there are three features that really stand out. There aren't many negatives to be found at Caesars Sportsbook at all, but three features help set this sit apart from others in the industry.
Total Rewards
One of the top features of the Caesars Sportsbook is the Total Rewards program that is offered to all customers. This program is offered for all Caesar's gaming platforms, and that has helped it become one of the top rewards programs in the US.
Points can add up quickly at Caesars Sportsbook as customers earn points for making bets at the site. This site is expected to offer some unique ways to earn points when it launches in Arizona.
These points can be redeemed for free bets or odds boosts at the site, but they can also be redeemed for unique experiences. For example, customers are able to earn exclusive opportunities at Caesars properties throughout the world.
User Friendly
Another great feature of Caesars Sportsbook is the clean and user-friendly interface on both the online and sportsbook apps. Caesars has continued to make improvements and upgrades to the mobile app, and this makes it an excellent option for customers.
Customers won't be overwhelmed with odds when viewing the online site, and it is set up so that searches can reveal what a customer is looking for. This helps customers make quick betting decisions and can lead to more winning.
Customer Service
The final top feature of the Caesars Sportsbook app is the customer service department. This site makes it so that customers are able to find answers to their own questions without having to speak with a representative.
There are over 100 pages of frequently asked questions on the site, and that is a great resource to use. However, if you do still need some additional help, then there are a number of ways to get in touch with customer service.
Creating Account at Caesars Sportsbook
For those looking to create an account at Caesars Sportsbook, it will be nice to know that this process can be completed in a matter of minutes. Also, you don't have to physically live in Arizona to be eligible to create an account at the site.
The first step is to provide Caesars Sportsbook with some basic personal information, including your name, address, and last four digits of your social security number. This allows Caesars to verify your identity and ensure that bettors aren't trying to create multiple accounts.
After your identity is verified, then you will be moved on to the next step of the registration process. It is here that you will create a username and password that can then be used to log into the site.
It is vital to choose a unique username and select a password that you will remember. All of your personal information at Caesars Sportsbook is safe and secure, but it's best to protect yourself by choosing a unique username and password.
After your username and password are selected, then you can sign into the site for the first time. From there, you will want to visit the banking portion of the site and make your initial deposit.
Remember that Caesars Sportsbook will match your first deposit up to $300, but that does not mean that you have to deposit that much. Also, take a look at all of the listed deposit options and choose the one that works best for you.
Once you have made your first deposit, you can then visit the sportsbook and begin making wagers. Remember to play responsibly and know when to quit if your gambling becomes a problem. 
Banking at Caesars Sportsbook
The banking options at Caesars Sportsbook is expected to be impressive, and there will be options available for everyone. This is one area that has seen tremendous growth and improvement over the years in the US sports betting industry.
Using a credit/debit card is still an option to make a deposit at Caesars Sportsbook, but there are much more efficient options to use. In addition, some of the top banking options will also allow you to make deposits and receive payouts on the same platform.
PayPal has emerged as a great banking option at online sportsbooks, and this will be accepted at Caesars. Linking your PayPal account to your Caesars account will allow for quick and easy deposits and withdrawals.
An e-check or an online bank transfer is another accepted banking option at Caesars Sportsbook, but there is a catch with this. Some banking institutions will block these transactions, and that could create an unwanted hassle.
Finally, Caesars is also expected to have a retail sportsbook in Arizona as well, and visiting the casino cage is another banking option. Simply visit a teller at the casino, and cash can be used to make a payment.
Caesars Sportsbook will continue to add new banking options in the future, and it's essential to check all of the options before making a deposit or requesting a withdrawal
Types of Bets at Caesars Sportsbook
Since Caesars has a long and proven history in the sports betting industry, this sportsbook will have one of the best lists of available betting options. You will also find a long list of betting markets available, including US and international options.
Arizona will determine what betting types and markets can be offered at Caesars Sportsbook, but the operator will take advantage of every opportunity. Caesars will also offer some unique betting opportunities, which will set this sportsbook apart from the industry.
Here is a list of the top betting types that you will see offered from Caesars Sportsbook:
Money line
Spread
Total
Futures
Parlays
Teasers
Individual Props
Team Props
Also, Caesars Sportsbook will feature live or in-play betting options on nearly all of the betting markets featured at the site. This has become a popular betting option, and it provides a great experience at Caesars.
As mentioned above, Caesars will have one of the most impressive lists of international betting markets in Arizona. In addition, William Hill is a company based in the UK, and that gives Caesars an even better opportunity to focus on international sports and events.

CAESARS SPORTSBOOK REVIEW
Up To $500 Risk-Free Bet
FAQs About Caesars Sportsbook
Is Caesars Sportsbook Live in Arizona?
No, as of June 1, Caesars Sportsbook is not live in the state of Arizona. The state of Arizona has not yet launched online sports betting, but Caesars is expected to become one of the first options to hit the internet. Be sure to follow this site when launch dates are announced.
Does Caesars Sportsbook have a welcome offer?
Yes, Caesars Sportsbook is expected to have a welcome bonus when the site first launches. Nothing will be official until the site goes live, but it will likely be similar to other offers in different states. Caesars is known for offering a $10 free bet when signing up, and they also offer a 100% deposit bonus of up to $300.
Is Caesars Sportsbook safe to use?
Caesars Entertainment is one of the biggest names in the gaming industry, and it is starting to emerge in the US iGaming industry. The Caesars Sportsbook will be safe to use when it launches, and the state will also regulate it.
Will there be live betting options?
Absolutely. Live or in-play betting has become one of the most popular forms of betting in the United States, and Caesars Sportsbook will have these options available. In addition, some of the most popular sports will have more live betting options than the more obscure markets.
Can I bet on European soccer at Caesars Sportsbook?
Yes, you will be able to make wagers on European soccer at Caesars Sportsbook Arizona, but maybe not on all of the smallest leagues. Caesars will offer betting on a wide range of international events, but it must follow the rules and regulations established in the state.
Will a mobile app be available?
Yes, Caesars Sportsbook is expected to offer a mobile app in Arizona, which will likely be the most popular way to access the operator. This app should be available for download on both Android and iOS devices, and a link to the apps will be provided on the online site.