ONLINE BANK TRANSFER, E-CHECK, CREDIT/DEBIT CARD
ONLINE BANK TRANSFER, WIRE TRANSFER, CASH
OFFICIALLY LICENSED IN ARIZONA
OFFICIAL OPERATOR SINCE 2021 
When the Arizona sports betting industry first launches, FanDuel Sportsbook is expected to be one of the first companies in the state. FanDuel is the market leader in the online US sports betting industry, and it provides a great service to its customers.
FanDuel has already announced a partnership with the Phoenix Suns, and that should also help the sportsbook become a leader in Arizona. The Suns are one of the most popular professional teams in the state, but don't expect FanDuel to end its partnerships with the NBA team.
This company originally started out as a Daily Fantasy Sports operator, but it has been a smooth transition into the sports betting industry. It has clearly become a favorite with bettors throughout the US, and it should quickly become a top betting option in Arizona.
There are a number of great features offered by FanDuel Sportsbook, and some of those will be explained and highlighted in this review. FanDuel Sportsbook has a proven track record in the US, and it will help drive sports betting in Arizona.
Sign Up Bonus
One of the best ways to attract new customers is to offer a sign up bonus, and that is exactly what FanDuel is expected to do. There won't be an official welcome bonus offer available until the site launches, but it will likely be the same as it is in other markets.
FanDuel Sportsbook offers a risk-free bet worth up to $1,000, and that is available for all new customers in the states where FanDuel has launched. There could be some additional bonus offers in Arizona, but this risk-free bet will be the biggest offer.
There is no promo code needed to take advantage of this sign-up bonus from FanDuel, but it only applies to the first bet made at the site. Customers will also have to make a deposit to unlock this offer so that there are funds in the account to bet with.
To take advantage of this offer, simply place a bet at the sportsbook when it launches. If your first bet loses then FanDuel will send you a free bet equal to the amount of your first wager up to $1,000.
There is no deposit bonus or free bet opportunity through FanDuel Sportsbook, but this risk-free bet up to $1,000 is still a terrific offer.
There is also a common FanDuel DFS welcome bonus offer that should be extended to the state of Arizona as well. Customers looking to create a DFS account will be eligible for a 20% first deposit bonus up to $500.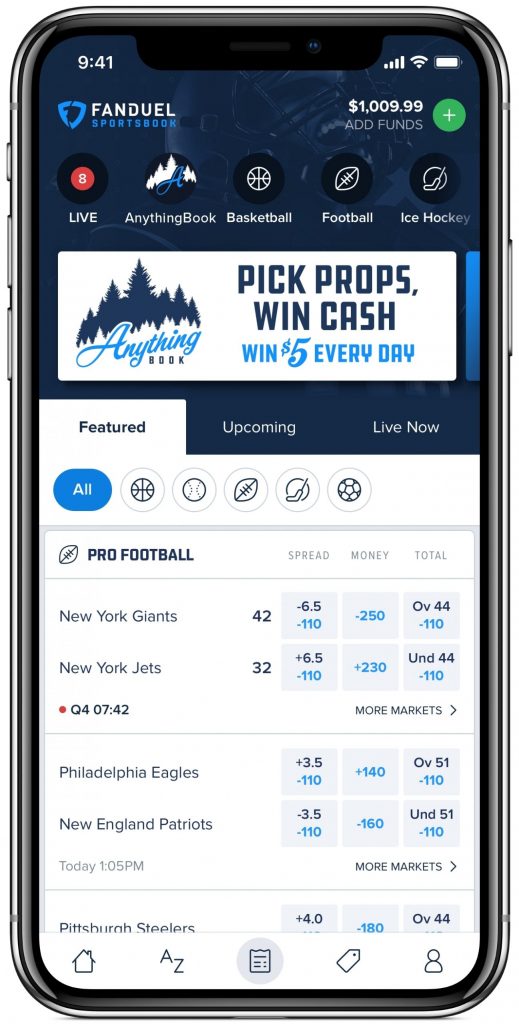 FanDuel Sportsbook Features
FanDuel didn't just become the market leader in the US on its name alone as it has created some terrific features for sports bettors across the country to enjoy. This company also continues to come out with new features that have never been seen before in the industry, and that helps attract new customers.
Here are three of the top sportsbook features that you will find on FanDuel Sportsbook. 
Odds Boosts
Most sportsbooks offer some form of Daily odds boosts, but none do it better than FanDuel does. These odds boosts are updated every single morning, and you will find a long list of these options available to you.
Not only does FanDuel boost the odds for some of the top sporting events throughout the country, but it also focuses on the local teams. When FanDuel Sportsbook Arizona launches you will find plenty of these boosts on the Cardinals, Suns, Coyotes, or Diamondbacks.
Sportsbook/DFS Integration
Another big advantage that FanDuel has over its competitors is that it is a proven force in the DFS industry. This is not the case yet in Arizona, but FanDuel will likely be launching both platforms around the same time.
Customers that enjoy playing on both platforms will enjoy the smooth integration between the DFS side of things and the FanDuel Sportsbook. It is extremely easy to switch back and forth, and only one account is needed. 
Parlay Insurance
Another great promotion that FanDuel offers is what is known as parlay insurance. The sportsbook has changed up the rules for this promotion several different times, but it all adds up to being a great offer for the customer.
Parlay betting has become extremely popular and FanDuel allows you to build a parlay risk-free as long as only one leg loses.
Creating Account at FanDuel Sportsbook
When you go to sign up for a new account at FanDuel Sportsbook, you will be happy to know that this is a simple process that can be completed in a matter of minutes. You will only be providing FanDuel with minimal personal information, and that information will be safe and secure on the site.
The first step is to access the online site or download the FanDuel Sportsbook mobile app. From there you will be asked for your name, date of birth, and your physical address.
After your identification is verified then you will be prompted to create a username and password to be used when logging in to the site. You will then enter that information to log in to your account for the very first time.
From there you can head to the banking section of the site and make your initial deposit. You will want to look over the complete list of banking options at the FanDuel Sportsbook site and pick the one that works best for you.
Remember that there is no deposit bonus when signing up at FanDuel Sportsbook, but you will have to have money in your account to take advantage of the risk-free bet that is offered.
Once you have money in your account then you are free to look at the available betting markets and begin betting at the site.
Banking at FanDuel Sportsbook
The banking options at online sportsbooks continue to grow, and that is definitely the case at FanDuel Sportsbook. The option to use a credit/debit card is still there, but that is no longer the best option to use at an online sportsbook.
FanDuel offers its own prepaid card and that is a great option for most sports bettors. This card can be loaded with many different payment options, and this is also a great way to get your winnings back in a timely fashion.
PayPal is another popular option and FanDuel allows you to link your accounts so that money can be sent back and forth quickly and easily. All you need to know is your PayPal account email address to use this option.
An online bank transfer is an acceptable deposit option at FanDuel Sportsbook as well, and most banks will allow this to happen. There are still some banking institutions that block transactions to an online sportsbook.
Another banking option that works as both a deposit or withdrawal transaction is what is known as an ACH or an eCheck. This process can take some time on both ends, and the money might not show up as quickly as some of the other options that are out there.
When FanDuel partners with a casino in Arizona, visiting the casino cage will also be a banking option that is supported. The bank teller can load money onto your account for you, and you can also receive your winnings in-person.
Types of Bets at FanDuel Sportsbook
One of the biggest reasons that FanDuel is a market leader in the United States is due to its large selection of betting options. FanDuel does have to follow state rules and regulations when it comes to what is available, but this site will have more options than most others in Arizona.
Of course FanDuel offers the most popular and common betting options, but you will also find a long list of prop betting options as well. FanDuel Sportsbook has future betting odds for nearly every market, and the odds are adjusted frequently.
Live betting is another popular form of betting, and FanDuel Sportsbook offers live betting on most markets as well. You are even able to create a parlay wager using in-play bets, which is something that other sportsbooks don't allow you to do.
FanDuel was also one of the first online sportsbooks that started offering what is known as a Same Game Parlay. Most sportsbooks don't allow you to combine bets from the same market into a wager, but that is allowed at FanDuel Sportsbook.
FanDuel also specializes in offering a wide range of international betting markets even though the company is based in the United States. This allows bettors more options throughout the year when there is a break in the major US professional sports.
Here is a list of some of the top betting options at FanDuel Sportsbook:
Money line
Spread
Totals
Parlay
Same Game Parlay
Teasers
Futures
Individual Props
Team Props
Live Betting

FANDUEL SPORTSBOOK REVIEW
Up To $1,000 Risk-Free Bet
FAQs About FanDuel Sportsbook
Will there be a welcome bonus offered from FanDuel Sportsbook?
Yes, FanDuel offers a risk-free bet worth up to $1,000 for new customers on the site. There is also a welcome bonus available for the FanDuel DFS site. Currently, FanDuel does not offer any deposit bonuses in any markets in the US.
Does FanDuel offer retail sports betting in Arizona?
FanDuel has not yet partnered with a casino in Arizona, but that is expected to happen soon. FanDuel will be offering both online and retail sports betting in Arizona when the industry is up and running.
Can I contact FanDuel customer support?
Yes, there are three main ways to get some customer support from FanDuel Sportsbook. The easiest way to get a quick answer is to take advantage of the live chat feature that is offered on the site or also on the mobile app. Customer can also reach customer service by phone or use the dedicated customer service email.
Will my DFS and Sportsbook account work together?
If you are someone that plans on playing FanDuel DFS as well as betting on sports then you can simply create one account. The mobile app and the online site will both give you access to each betting platform, and it will be easy to toggle back and forth.
Is live betting available at FanDuel Sportsbook?
Yes, live betting options are available at FanDuel Sportsbook and this is one of the top betting options that people choose. You will find live betting for a large number of different betting markets, including both US and international sporting events.
Can I access FanDuel Sportsbook from a mobile device?
Yes, the FanDuel Sportsbook app will be available in Arizona for both Android and iOS devices. This mobile app is highly-rated, and it is also very user friendly. Sports bettors will be able to access FanDuel Sportsbook from anywhere in the state as long as location services are enabled.