ONLINE BANK TRANSFER, E-CHECK, CREDIT/DEBIT CARD
ONLINE BANK TRANSFER, WIRE TRANSFER, CASH
OFFICIALLY LICENSED IN ARIZONA
OFFICIAL OPERATOR SINCE 2021 
When the Arizona sports betting industry officially launches in September 2021, PointsBet Sportsbook will be one of the online sports betting apps that is ready to go. PointsBet might not be one of the biggest names in the US sports betting industry, but it continues to trend in the right direction.
In order to gain access into the state of Arizona, PointsBet has partnered with the Yavapai-Apache Nation, which owns and operates the Cliff Castle Casino Hotel. The sports betting market in Arizona is expected to be extremely crowded and competitive, but PointsBet has some unique features that will set it apart.
This company has its main headquarters in Australia, but it has also built up a US headquarters in Denver, Colorado. PointsBet has formed some impressive partnerships over the last few years, including one with NBC Sports.
Many of the online sports betting sites that you will find in Arizona are going to be extremely similar, but that isn't the case with PointsBet. This operator has created a unique sports betting experience, and it offers a style of betting that is not found on any other site.
Few companies have been able to grow and expand as quickly as PointsBet, and launching in Arizona will provide another great opportunity for the company. When sports betting is finally available in Arizona, then PointsBet Sportsbook is one of the options that you will want to try.
There are still some areas that could use improvement at PointsBet, but this site and mobile app will still provide a great sports betting experience.
PointsBet Sign Up Bonus
One of the first things that you will notice when signing up for a new account at PointsBet Sportsbook is that it has one of the best welcome bonuses in the industry. Sports betting sites use bonuses as a way to attract customers, and few operators do it better than PointsBet.
It's impossible to know what the sign-up bonus at PointsBet Arizona will be until the app is live, but it should be the same as it is in other markets. If this is the case, then sports bettors in the state will be lining up to take advantage of this offer.
PointsBet is currently offering a sign-up bonus of two risk-free bets worth up to $2,000. This is a massive offer, but it is one that comes without any sort of first deposit bonus.
New users are able to earn a risk-free bet worth up to $500 on the first fixed odds bet that is placed at the site. Fixed-odds betting is the name for a traditional sports bet that is made at online sportsbooks throughout the country.
PointsBet is also offering risk-free points betting wager worth up to $1,500. Points betting is a unique form of sports betting that was rolled out by PointsBet, and it continues to be a popular option for sports bettors.
Simply place your first two wagers at the site, and you will be given a risk-free bet if your first fixed-odds and points betting bets lose up to the amount listed above.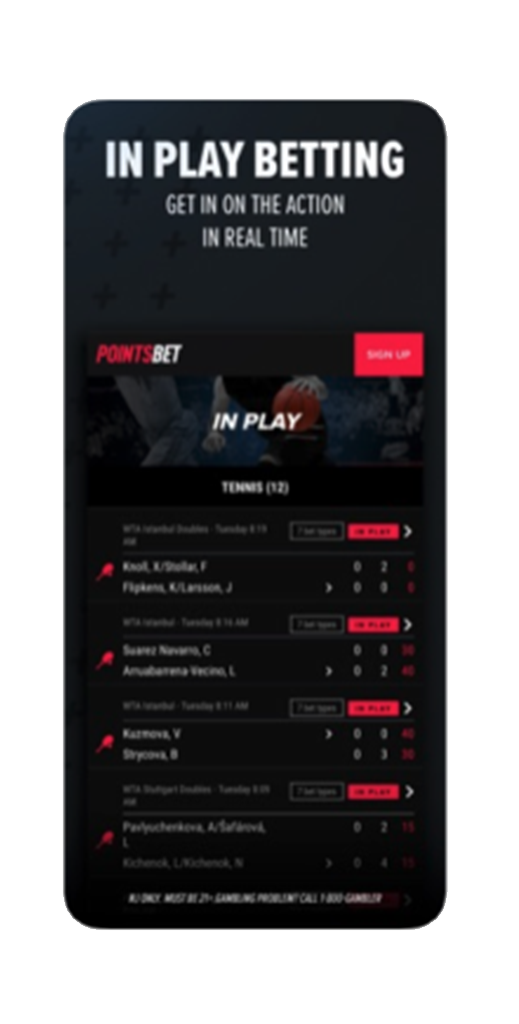 PointsBet Sportsbook Features 
PointsBet has an overall experience that is great for sports betting customers, but there are certain features that help to set it apart from the competition. Here are some of the top PointsBet Sportsbook features, but this is not a complete list.
Points Betting
Points betting is clearly the top feature of PointsBet, and it is what sets this operator apart from the rest of the competition. Points betting can be difficult to understand at first, but it has become a popular option for most customers at the site.
With points betting, the amount of money that is either won or lost can increase based on the type of wager that is placed. This type of bet is extremely popular when it comes time for the NFL season, but basketball is another sport that has this option as well.
Karma Kommittee
The "Karma Kommittee" at PointsBet has been extremely popular since this site launched in the United States, and it has also saved plenty of bettors some money. This committee meets each week, and it takes a look at all of the action that takes place.
If the Karma Kommittee believes that bettors lost a bet because of some unforeseen circumstances, then PointsBet will issue refunds for that market. This isn't something that is done often, but it is a great customer service.
Promotions
PoitnsBet is a company that is known for thinking outside of the box when it comes to offering promotions. These promotional opportunities are always changing, but there is a long list that can be found on the navigational portion of the website or mobile app.
Loyalty Program
The loyalty program at PointsBet is available for all customers on the site, and racking up points is extremely simple. Points are earned for making wagers at the sportsbook, and those points can be traded in for free bets and other prizes.
Most online sportsbooks in the US will offer some sort of loyalty program, but the points add up extremely fast at PointsBet Sportsbook.
Creating a PointsBet Arizona Account
Creating an account at PointsBet Sportsbook is a simple process, and it is one that can be completed in a matter of minutes. This is also a process that can be completed through the mobile app, but it can be done through the online site as well.
When you first go to create an account at PointsBet Sportsbook, you will be asked to provide some basic personal information. This is done so that PointsBet can verify your identity to ensure that you are legally able to sign up for an account.
You will need to provide your:
Name
Date of Birth
Email Address
Phone Number
Address
Last Four Digits of your Social Security Number
Some customers are leery to give out the last four digits of their SSN, but this information is needed to complete this process. All of the information is safe and secure, and you won't have to worry about your identity being stolen.
After PointsBet is able to verify your identity, you will then be asked to create a username and password to use at the site. This is the information that you will enter every time you go to access your sports betting account.
You will want to be sure that you choose a username and password that is unique to only you, but you also want to choose something that you will remember. From there, you are able to log in to your account for the first time and begin exploring all that PointsBet Arizona has to offer.
Banking at PointsBet 
The biggest area that could use some improvement at PointsBet Sportsbook is the banking section of the site. Customers are limited in the deposit and withdrawal options that are available to them when compared to some other sports betting apps on the market.
The banking process is quick and secure at PointsBet, and the site is committed to adding new options in the future.
Deposit Methods
You will see at least five deposit options listed on PointsBet Arizona, and there could be more options added when the site goes live. There is a minimum deposit of $5 when making a payment at the site.
PayPal is now a popular e-wallet option that can be used to fund a sports betting account at PointsBet. Customers can also take advantage of the online banking option by linking the two accounts.
A credit/debit card is also accepted at PointsBet, but it is no longer the most commonly used option like it was a few years ago. An E-check/ACH Deposit is another option that some sports betting customers like to use.
Finally, customers at PointsBet can visit a PayNearMe at local convenience stores or pharmacies to fund their sports betting accounts.
Withdrawal Options
There are currently just three withdrawal options available at PointsBet, which can be a bit frustrating for some customers. The method of deposit that is chosen can also dictate what withdrawal methods are available as well.
PayPal is one of the most popular withdrawal options available, but that can only be used if a PayPal account is linked. Making a deposit with PayPal will ensure that this can be the type of withdrawal that is selected as well.
Online banking is another option that can be used, but only if that was used as a form of initial payment. An ACH transfer or an echeck is the third withdrawal option that you will see listed at PointsBet Arizona.
Types of Bets at PointsBet 
PointsBet Arizona will have to follow all of the rules and regulations that are provided by the Arizona Department of Gaming. These rules will dictate what betting markets can be offered at the site, but there will be no shortage of betting options that are available.
The National Football League is the top betting market in the US, and it will be popular in Arizona as well. The other three major professional sports will also be offered along with the top international betting markets.
Outside of the available betting markets, PointsBet will also have a long list of different betting types available. Here are some of the types of bets that you will see at PointsBet Sportsbook Arizona:
Moneyline
Spread
Totals
Futures
Parlays
Teasers
Props
Live or In-Play Betting
Points Betting
PointsBet won't offer all of these betting types for each betting market, but there will be no shortage of betting options available.

POINTSBET SPORTSBOOK REVIEW
Up To $1,000 Risk-Free Bet
FAQs About PointsBet Sportsbook
Where is PointsBet headquartered?
PointsBet has its main headquarters in Melbourne, Australia, as it is an Australian-based sports betting operator. This company has since built a United States headquarters in Denver, Colorado, to help control all of the options in this country.
How did PointsBet gain market access in Arizona?
PointsBet is able to offer sports betting in Arizona through a deal with the Castle Hill Casino Hotel. This property is owned and operated by the Yapavai-Apache Nation, a federally recognized tribe in the state of Arizona.
Can I make a fixed-odds wager at PointsBet?
Yes, PointsBet does offer fixed-odds wagering on a large selection of available betting markets. PointsBet also offers its own version of sports betting, which is known as points betting, and that betting type has helped to set PointsBet apart from the competition.
Does PointsBet offer a deposit bonus?
The official PointsBet sign-up bonus won't be revealed until the mobile app is officially live, but don't expect to see a deposit bonus. The current offer from PointsBet in other markets is two risk-free bets worth up to $2,000.
Can I make a deposit using Bitcoin?
No, PointsBet Arizona will not allow you to use Bitcoin or any other form of cryptocurrency when making a banking transaction.