ONLINE BANK TRANSFER, E-CHECK, CREDIT/DEBIT CARD
ONLINE BANK TRANSFER, WIRE TRANSFER, CASH
OFFICIALLY LICENSED IN ARIZONA
OFFICIAL OPERATOR SINCE 2021 
The Arizona sports betting market is slated to be a significant competitor in the United States legal wagering industry. Legislation passed in the state in 2021, and the industry is set to launch before the new NFL season kicks off in the same year. This will be your official Wynnbet Arizona sportsbook review and we go over it in detail below. Enjoy!
WynnBet, which is run by Wynn Resorts, is a mobile sportsbook that's growing its presence in the legal betting industry. WynnBet secured market access in Arizona through a deal with the San Carlos Apache Tribe, who operates the Apache Gold Casino and Apache Sky Casino.
Mobile betting will be the dominant factor in the state, but the Apache casinos will also include a retail sportsbook operated by WynnBet. This should help the mobile sportsbook gain traction amongst bettors.
The state will still include major sportsbooks like DraftKings and FanDuel. However, these books will have quite the challenge of holding down the market. WynnBet is a surging book that will be a favorite amongst bettors in the state.
WynnBet is an excellent book, and it's growing. However, at this time, it should be ranked as a second-tier platform. The platform has many great qualities, but the book comes up short to DraftKings and FanDuel. This is to be expected, but there are still many reasons to gamble on the site.
WynnBet is backed by a major competitor in the casino and hotel industry in Wynn Resorts. The company has invested a lot of money into the sportsbook, and its improvement has been noticeable since betting was legalized in the United States. Arizona will be the seventh state where WynnBet is live, in addition to Colorado, Indiana, Michigan, New Jersey, Tennessee, and Virginia, of course.
WynnBet Sign Up Bonus
WynnBet's sign-up bonus is not bad, but there is room for improvement in Arizona. In the legal sports betting industry, sportsbooks use sign-up bonuses to attract players. There are two types of welcome gifts that you typically receive from sportsbooks.
There are deposit matches and risk-free bets. Deposit matches are when you receive house money matching your initial financial entry. Risk-free bets are when you receive your risk back in free credit if your first wager loses.
If your initial bet is successful, you do not receive any part of the welcome bonus. Deposit matches are the gold standard, but risk-free bets are still solid depending on how large the limit is on the promotion.
In Arizona, WynnBet Sportsbook users will receive a risk-free bet of up to $500. This is standard in the industry, but it's not the best. Caesars Sportsbook recently dropped a deal where new users could receive a risk-free bet up to $5,000 initially.
There is no promo code required for the WynnBet Sportsbook welcome bonus. The bonus can be applied to odds between -150 and +10000, and it pays out in the form of a free bet. You must deposit a minimum of $20 for the promotion to be applied to your account.
There are no sports that are off-limits for the promotion in Arizona. Additionally, there are other promotions that WynnBet will give throughout the year. These deals are smaller but still are nice throughout the year for frequent users.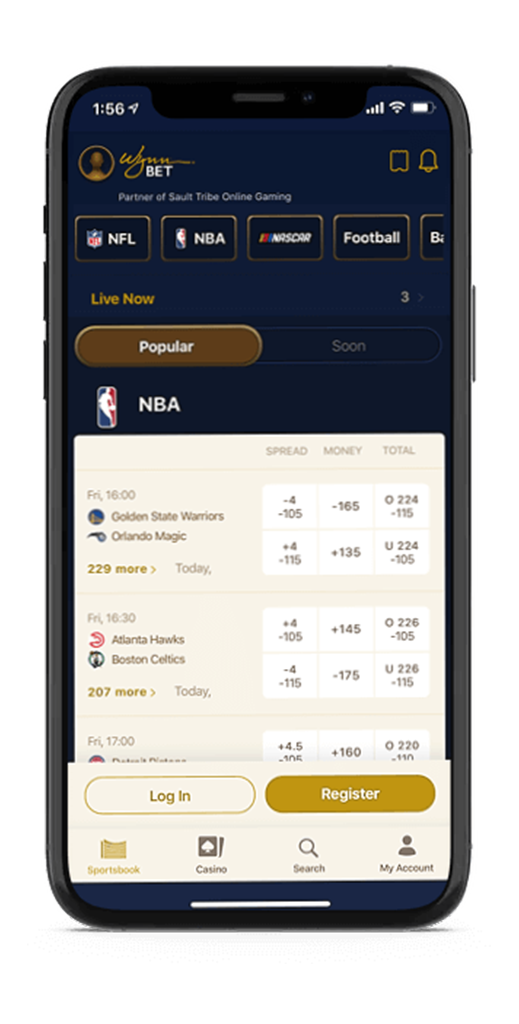 WynnBet Sportsbook Features
WynnBet ranks fairly well when its features are examined. When all the features are accounted for, WynnBet should be given a B for a grade. This is better than many books that will go live in Arizona.
The bonuses and promotions go downhill after the initial welcome bonus. However, the sportsbook has become better at keeping players excited about gambling on the sportsbook. WynnBet will offer deals around big games or the holidays to keep players on the site.
Additionally, if Arizona sports teams have a big game, there may be a built-in promotion for these franchises through WynnBet. The mobile app and website are very nice with WynnBet, and they make the sportsbook appealing.
A sportsbook with a phenomenal layout is necessary because betting can be stressful. A swift wagering process through a clean sportsbook is great for a site. The process from registration to your first wager could not be more straightforward.
The betting markets on WynnBet are strong for mainstream sports, but if you like niche competitions, you should look elsewhere. Niche sports are not great on the sportsbook, so find another book if you are looking to bet on Aussie Rules football or table tennis.
Nevertheless, if you only are interested in betting on major sports, you will be happy with WynnBet. The sportsbook covers the major markets well, but props are limited. This is another problem with the sportsbook, but things have improved vastly since the site launched.
Arizona sports betting is receiving WynnBet at a great time. The early bones of WynnBet were not great, but the platform's status is improving consistently.
Creating a WynnBet Account
Creating a WynnBet account in Arizona is very simple. If you have registered for a legal sports betting account in the past, the process is nearly identical to WynnBet. Before you can create an account on WynnBet Sportsbook, you must fit a couple of categories.
WynnBet Arizona is exclusive to the state, so you must be located within Arizona borders to play on the site. Your mobile device will use its GPS software to ensure you are within the state. Additionally, you must be 21 years of age to bet on sports in Arizona.
If you fit these qualifications, you are ready to begin the registration process. You can sign up for an account on your computer or the mobile sportsbook from your phone. If you sign up on your phone, proceed to the App Store or Google Play and search WynnBet.
WynnBet will ask you to fill out many categories like your name, birthdate, address, financial card information, etc. Your information is safe with the sportsbook, but I recommend using a strong password, so nobody can hack your account.
In the legal sports betting industry, platforms go through rigorous testing to keep personal information safe. After you create your account, you must make your first deposit. A $20 minimum deposit will give you access to the welcome bonus.
If you have issues during registration, you can contact WynnBet directly. The sportsbook has an excellent customer service team. Since the book is an extension of Wynn Resorts, the site understands how to treat issues amongst users.
Banking at WynnBet
The banking at WynnBet is below average in the legal betting industry. There is a deposit method for every user on the sportsbook, but it's smaller than the number offered by a large book like DraftKings or FanDuel.
Four deposit methods are solid choices for people looking to gamble with WynnBet. The first is Play+ prepaid card, which serves as a debit card. WynnBet will also not receive your financial information if you make this selection.
You deposit money directly onto the card. To withdrawal, you take the card to an ATM, and you will receive your cash. This is the recommended banking option on the sportsbook.
There is also an electronic bank transfer method and credit/debit card options. The two cards that you can use are Visa and MasterCard. Not having Discover and American Express can be an option for some, but if this is the case, you should utilize the prepaid card.
In Arizona, there will also be cash at the casino cage method. This is where you can deposit real funds and receive payouts in cash. The cage will be available at the Apache Gold Casino and Apache Sky Casino. However, Arizona is a large state, so this option may not be available to every WynnBet user.
On iOS, PayPal is also available. This is a good method, but PayPal takes fees, so it might not be the best method if you are withdrawing large amounts. If you want to sign up for responsible wagering, you will have access to deposit and withdrawal limits on the sportsbook.
Types of Bets at WynnBet
WynnBet offers all betting markets, but the platform is not the best with props. Nevertheless, this heavily depends on the games you are betting on the sportsbook. For all events, traditional bets like the money line, point spread, and total are offered.
The money line is when you bet a team straight up to win a game. The spread is betting on a team to win by or be within a certain amount. The total is when you wager over or under a set number for a contest.
WynnBet has prop wagers for all sporting events. This market involves smaller aspects of contests like individual player performances. If you bet on Kyler Murray to score over 2.5 touchdowns, this would be an example of a prop bet.
WynnBet does well for prop bets on major sporting events like the NFL or NBA. Nevertheless, MLB can vary with props, and they do not consistently deliver for niche sports. Prop bets should not make or break your decision to wager on a site. However, sportsbooks with a lot of props generally have higher ratings.
Other available bets are futures, parlays, teasers, and round robins. WynnBet parlays are great because the site allows you to combine bets from all sports to yield a substantial payout.
If you want to gamble on small sports, WynnBet is not the best platform. Yet, if you enjoy football, basketball, baseball, and hockey, you will not be disappointed with WynnBet. The lines and odds are fair on the platform, which is another reason to utilize the site.
WynnBet limits the need to line shop because of the great odds offered on the sportsbook.

WYNNBET SPORTSBOOK REVIEW
Up To $1,000 Risk-Free Bet
FAQs About WynnBet Sportsbook
Is WynnBet available on mobile in Arizona?
Yes, WynnBet will be available on your mobile device in Arizona.
How did WynnBet secure market access in Arizona?
WynnBet secured market access through a deal with the San Carlos Apache Tribe.
Is WynnBet a top-tier sportsbook in Arizona?
Based on the platforms offered in Arizona, WynnBet is a tier two platform. Wynn is a reputable brand that you should utilize, but some areas of the book are not superior to large sites.
What are the best sports to bet on WynnBet?
The best sports to bet on WynnBet are football, basketball, baseball, and hockey. If you do not utilize these sports, WynnBet may not be your best choice.
How old do you need to be to gamble on WynnBet?
To play on WynnBet, you must be 21 years of age.
Can I play on WynnBet Arizona if I am outside of the state?
No, to gamble on WynnBet, you must be located in the state. However, you can view the sportsbook in a different part of the country.
What is the welcome bonus for new WynnBet users in Arizona?
New users will receive a risk-free bet of up to $500 on WynnBet Sportsbook.
What are the banking options offered on WynnBet?
You can bank through an online transfer, prepaid card, PayPal, credit card, or through cash at the casino cage. These are limited options, but every bettor should find an efficient selection.