MMA Betting in Arizona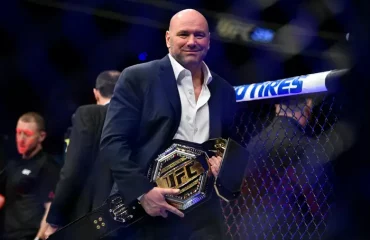 MMA betting in Arizona is prevalent. The MMA has gone from a non-mainstream sport to one that ESPN heavily covers. The main MMA league in the United States and around the world is the UFC.
The UFC is owned and operated by Dana White. Arizona has hosted multiple UFC events since the company was founded. It's headquartered in Nevada, which borders the state, so Arizona citizens are very engaged in the sport.
Athletes like Conor McGregor, Khabib Nurmagomedov and Georges St-Pierre have helped push the sport to the athletic world's forefront. It has certainly come a long way since its inception as a "winner take all" competition in the early 1990's. This was also when the UFC had no weight classes and almost no rules, whatsoever.
Cain Velasquez was one of the most popular UFC fighters in the Valley. His collegiate sport career started at Arizona State University, where he was a two-time All-American wrestler. Following his Division I wrestling career, he posted a 14-3 MMA career. 
MMA Season Structure
There are various MMA leagues in the United States, and they all have different schedules. MMA companies make money on their pay-per-view fights. The most significant fighting company is the UFC, and they hold events every month. 
The UFC has started to adopt a more regular schedule, with minor shows becoming more frequent on ESPN+. They also hold major pay-per-view shows that are numbered. 
There are four levels of UFC events in Dana White's business. There is an average of four events per month, with some spanning multiple nights. 
The smallest events are called UFC Fight Night, UFC on ESPN, and UFC on ABC. UFC Fight Night shows are exclusively available on ESPN+. The significant pay-per-view events are shown once to twice per month. 
The biggest fighters headline the main pay-per-view (PPV) fights. These events are hyped up weeks in advance and work as a well-oiled machine from the ending of the last PPV to the very next. The first UFC pay-per-view event was held in 1993, so there the company is approaching 300 shows. 
The UFC is worth nine to ten billion dollars, and this company started in a time when people did not even know what MMA was on a national scale. Owner Dana White has brought this company up from ground zero, and he is constantly evolving the company.
In the next decade, there will probably be UFC events every night with the way the company has grown since 1993.
Where to Bet MMA in Arizona
You will be able to bet on MMA at a ton of venues throughout the state. MMA is very popular in AZ and the sportsbooks should offer a wide variety of bets on different fights. 
Retail and mobile wagering is legal in AZ. The most common place to bet on MMA will be on mobile devices, with the most popular apps in the state being the following:
>> FanDuel, DraftKings, Caesars and BetMGM.
There will be up to 20 mobile sportsbooks in the state. Retail sportsbooks will also open at tribal casinos and professional sports venues in Arizona. 
Types of MMA Bets in Arizona
MMA bets are not like the four major American sports. There are moneylines and prop bets for MMA, but they are much different than competitions like football, basketball, and baseball.
Moneyline – The moneyline is the simplest wager of all the MMA bets. This is when you pick a fighter to win a match straight up. It does not matter how they win the fight. They can knock out their opponent, make them tap out, or win by decision.
The only thing that matters with the moneyline is that the fighter you picked has their hand raised at the end of the match.
Total Rounds – Total round bets are over/under bets for the number of rounds in a fight. If the over/under for rounds is 2.5, and you bet the over, the match must go three rounds. If you take the under, the fight must be decided in the first two rounds.
*Winning Method – There are numerous ways for a fighter to win an MMA fight. A fighter can win by knockout, submission, or by decision. You do not need to predict the fighter who will win with this wager type. You just need to predict how the fight will end. 
*Editor's Note: The winning method bet is one of the most popular props for MMA. 
Parlays – Parlays for MMA are when you combine multiple wagers into a group. This lowers your chances of winning, but it increases your payout if your bet hits. If you wagered the fight to end by submission and chose the prevailing fighter, you would be placing a parlay. 
Some books will not allow you to parlay the same fight. However, you can always combine multiple bets from the same card for a parlay.
Futures – A futures bet for the MMA is when you wager an outcome that will occur in the future. An example of an MMA future would be, "Will the champion retain their title for the entire year?"
Live Betting on MMA in Arizona
Live betting on MMA is very popular. When people gain the ability to place MMA live bets in AZ, it will be widely utilized. Live betting is when you wager an event as it's unfolding. 
Odds are constantly changing with in-fight bets, which makes it very exhilarating. You must place live wagers at the correct time for the MMA, or it can be very detrimental.
MMA matches can end with a single strike. This makes live betting at the right moment critical for MMA.
Live odds will change throughout a match. A reason for a sportsbook to change MMA odds during a match would be if a fighter pins their opponent against the cage. Odds may alter in between rounds if a fighter is asserting their dominance.
If you are not watching an MMA fight, do not live bet the match. People usually do not make this mistake because MMA is not on television every night like baseball or basketball. Additionally, matches can be ten seconds long in some cases, so opportunities dwindle rapidly.
Tips for Betting MMA in Arizona
If you are a great bettor for traditional sports, it does not mean you will be victorious wagering MMA if you do not do your research. If you do not know enough information on the fighters, you will lose – its really that simple.
You must do your homework to be a great MMA bettor. This is the case for wagering all sports, but it's even more critical for MMA. In fighting, there are only two people who matter for your bets in a single match.
Team sports betting is much different than MMA for this reason. There is no excuse for not knowing about a fighter you are betting on because the information is highly accessible.
In a UFC fight, upsets are much more common than in team sports. This is because fights can end with a single strike. Great fighters get caught by punches occasionally.
If you just bet favorites on a match card, it's going to hurt you financially more times than not. If you research the fighters, you will know when you should bet underdogs and when you should go all-in on favorites.
Things to Avoid Betting MMA in Arizona
MMA betting is uncharacteristic because fights can end with a single blow. This is why it's critical to manage your money. You should lay out a specific amount of money for a pay-per-view event and not go over that number. 
If you attempt to chase your losses by betting more money, you will continue to lose. This is true for every sport, but it's magnified for MMA because you cannot trust favorites always to prevail.
If you are set on your money management, you should make sure that you never place a bet on a match where you do not know the details about the fighters. This is the fastest way to lose when betting MMA.
If you manage your money and study, you will prevail more times than not.
FAQ About MMA Betting in Arizona
Is MMA betting legal in Arizona?
Yes, MMA betting is legal in Arizona and is one of the most popular sports being on the all legal apps here in the state. There are no signs it will slow down as the UFC is an earning machine and one of the most-watched events on the planet.
Will there be mobile MMA betting?
Yes, mobile wagering is legal in Arizona. In fact, UFC garners some of the highest numbers of bets when its events are broadcast. It is especially popular at local pubs and bars, where fans usher in by the tens of thousands statewide just to bet on fights and drink with friends in the process.
What is the biggest MMA promotion that people wager?
The UFC is the largest MMA promotion. It's worth nine to ten billion dollars and has no clear competition besides smaller circuits besides Bellator and StrikeForce, among others.
What types of bets can I place on the UFC?
You can wager the moneyline, total rounds, winning method, parlays, props, and futures for the MMA. There are always live bets that pop up between rounds and can be found at most major betting apps in the Valley.
Does the UFC host fights in Arizona?
Yes, the UFC hosts multiple events per year in Arizona. The company is headquartered in Nevada, which borders Arizona. However, most of the fights take place right in the heart of Las Vegas, with stops being centered in bigger locales like Los Angeles, CA.